Mass-Loaded High-End Turntable with True Balanced Connection
Massive 5.1kg platter
The X8 offers a heavy, TPE damped mass-loaded platter precision lathed from a single aluminium block and finely balanced. On the Xtension 9 and 10 you cannot really play around with using different mats due to the glued on vinyl top. The X8 comes with a standard felt mat, also allowing you to experiment with different material mats in the future and tailor the sound to your taste.
Ceramic tipped, magnetically supported inverted bearing
A neodymium magnet decreases the load on the ceramic tipped bearing. Considering the massively heavy platter, this leads to a smoothly rotating base for your vinyl records and perfect speed stability.
The X8 inherited the massive MDF chassis and the top-of-the-line Pro-Ject 9cc EVO carbon tonearm from its larger siblings. The height-adjustable X8 features machined aluminium feet. The TPE damping technology in the feet effectively decouples the X8 from the surface it is placed on. The feet are a great choice for a more budget orientated turntable as they are faster and easier to set up than magnetic feet on the X9/10, and also require less maintenance.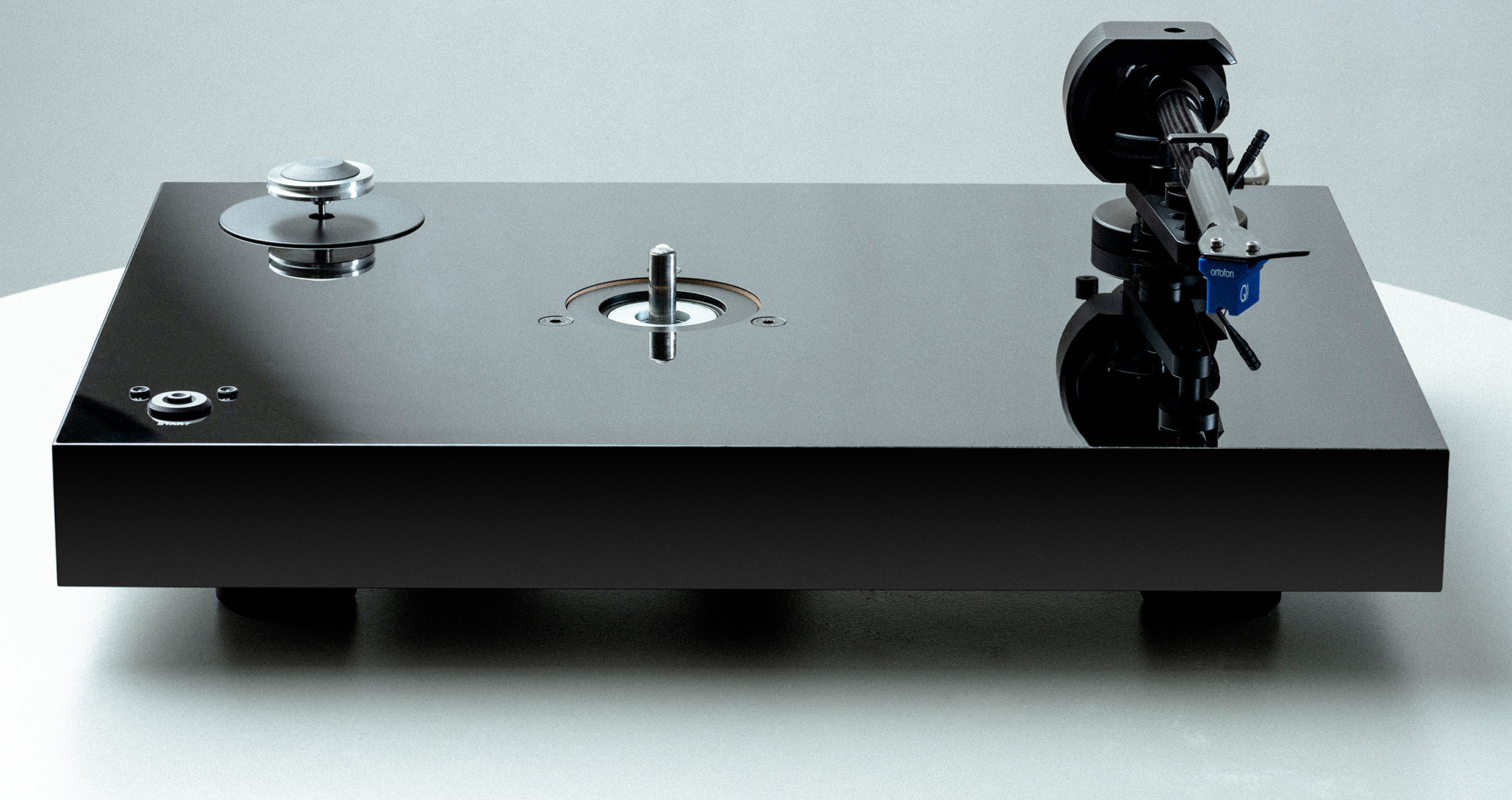 True Balanced Connection
We're launching a whole line of new "True Balanced Connection" components that feature a balanced connection for your phono setup. The X8 is our first turntable to feature this new phono technology.
Turntables look back on a long history. Over time, many things have changed, not only from technical possibilities, but also from the environment. Wireless networks are omni present and countless electronic devices make your home "smarter". This means there are now a lot of additional electromagnetic fields, which could interfere with your turntable's signal. This was simply not the case 30 years ago. To ensure the best connection to your phono preamplifier we designed our "True Balanced Connection".
What's True Balanced?
Balanced audio connections are usually known from the professional sector like recording studios or live concerts. It is very important to have a stable & interference free connection, as these signals will be highly amplified. The same applies to the connection from your turntable to the phono preamplifier. The big advantage of a balanced connection is its ability to remove picked up noise and interferences. And best of all, cartridges by nature are already balanced signal transducers! With True Balanced your are simply using everything, literally everything, that your cartridge is picking up from the record groove. You are not throwing away half of the usable signal, like is done in typical single-ended RCA phono connections.
The X8 comes with a 5pin output jack and with our standard semi-balanced Connect it Phono E 5P -> RCA cable. By upgrading it to our fully balanced 5P to XLR version (available separately) and using a balanced phono stage, like our Phono Box DS3 B or any of our RS/RS2 phono stages, you are fully set-up for the True Balanced experience. This leads to increased dynamics, less noise and improved signal to noise ratios. You can imagine it, like hearing parts of your music that literally were not there before.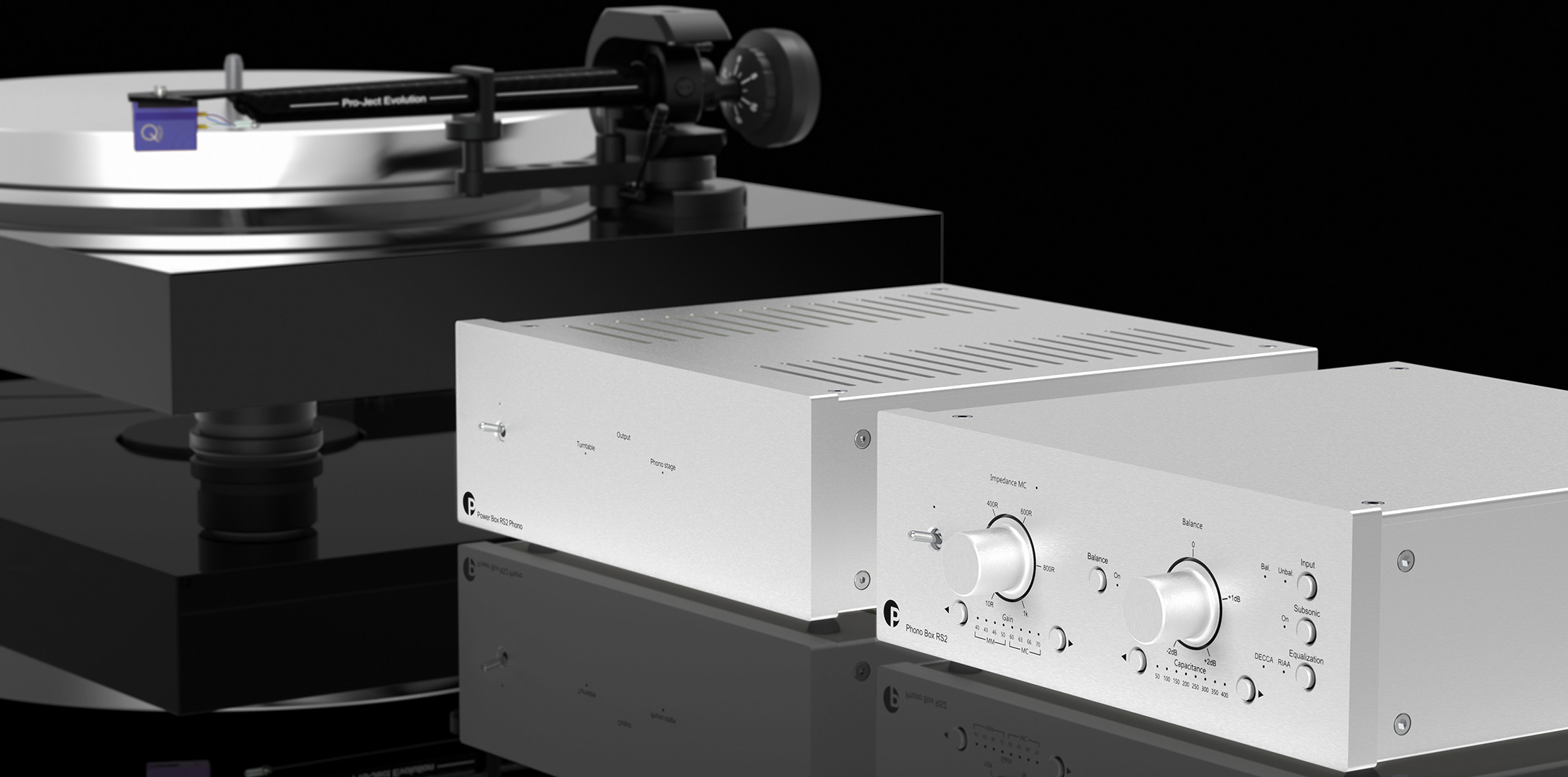 Unleash the full potential! Upgrade your phono cable to a Connect it Phono CC 5P/XLR for a True Balanced Connection to our Phono Box RS2 or our new Phono Box DS3 B.
A New Access to High-End
Ortofon Quintet Blue
Ready for True Balanced Connection
The X8 comes factory set with or without an Ortofon Quintet Blue. This cartridge will perfectly set you up for the True Balanced experience!
Mass-loaded platter
5.1kg heavy
TPE damped, mass-loaded platter precision lathed from a single aluminium block and finely balanced.
Inverted bearing
Stainless Steel Spindle
The inverted platter bearing is supported by a neodymium magnet that decreases the load on the ceramic tipped bearing.
Mass-loaded Chassis
Carbon tonearm
The X8 inherited the massive MDF chassis and the top-of-the-line Pro-Ject 9cc EVO carbon tonearm from its larger siblings.
Metal Feet
Damped & height adjustable
The three height adjustable damped aluminium feet guarantee the perfect stand & massively reduce risk of acoustical feedback.
33/45 RPM
Precision controlled
Switch speeds at the push of a button and enjoy stable and accurate speeds due to the built in electronic speed control.
True Balanced
Unleash the full power
The X8 is ready for our new True Balanced Connection. Single-ended RCA connections, quite literally, only use half of your cartridge's output. With one of our new True Balanced phono cables wired to a Phono Box S3 B, Phono Box DS3 B, Phono Box RS or RS2 you'll be able to hear your MC cartridge in its entirety!
Handmade in EU
Since 1991
Made in Europe by a turntable factory with decades of experience. Expert craftsmanship dwells deep within the X8.
Available in three luxurious finishes!
Technical Specifications
| | |
| --- | --- |
| Speed: | 33, 45 (electronic speed change) |
| Drive principle: | belt drive |
| Included phono cable: | Connect it E 5P -> RCA, 1.23m |
| Aluminium feet: | Height adjustable & TPE damped |
| Platter: | massive 5,1 kg lathed aluminium & TPE damped |
| Platter bearing: | inverted with ceramic ball tips and magnetic support |
| Wow & flutter: | 33: ±0,11%; 45: ± 0,10% |
| Speed drift: | 33: ±0,11%; 45: ± 0,09% |
| Signal to noise: | 73dB |
| Tonearm: | 9" one-piece carbon-fibre tonearm |
| Effective arm length / mass: | 9" (230 mm) / 8,5 g |
| Overhang: | 18mm |
| Included accessories: | 15V DC / 0,8A power supply, dust cover, 7" single adapter, felt mat, phono cable |
| Power consumption: | 5W / 0,3 W standby mode |
| Dimensions lid closed: | 465 x 150 x 350 mm (W x H x D) |
| Dimensions lid opened: | 465 x 415 x 420 mm (W x H x D) |
| Weight: | 15kg |
---
---
Reviews
"This duo is a superb demonstration of a fully balanced analogue front-end"
UK, 11.2022
• The exceptionally low levels of noise are superb and help this duo deliver one of the most airy and three-dimensional performances at the price.
---
"Pro-Ject hits the bull's eye"
Germany, 08.2022
• Guitar strings glisten like dewdrops in the sun and synthesizer clouds hang like wisps of mist in front of the listener, seem freed from a certain constriction, breathe a sigh of relief, so to speak, when the 9CC EVO, especially stiff and adjustable in every direction carbon tonearm was connected to the DS3 B via XLR cable.
• The duo revealed itself in a mixture of relaxed, laid-back pose and delicate fine-tuning of the colour shades as well as in the equally discreet and concise flickering of the strings of the track aiming directly at the mind. Here, too, the reproduction had more air, expansion and natural swing when XLR connections were used.
• Thus, Pro-Ject's "balancing act" turns out to be a high-class and risk-free feat on the high wire of analogue technology.
• Not only because of the high-quality MC-sampler as part of the SuperPack, the X8 definitely sounds like a higher class, namely emphatically clear and orderly, colourful as well as dynamically on the point.
• The discrete signal processing delivers a wide-ranging, detailed, and homogeneous sound image with tight bass and outstanding liveliness. And the price is also excellent!
---
"A record player for the most demanding customers"
Germany, 06.2022
• Its smooth flow and bass dynamics put it in the ranks of the truly great players.
• The Pro-Ject X8, on the other hand, surpasses even optimistic expectations of a turntable of its type.
• It lets the music spring from an almost magical calm, with full dynamics and natural power.
• Everything is just right: super-fine, almost lovingly drawn is the chime and marimba loop that underpins almost the entire piece. Juicy-tight, with good punch and bass drum kicks.
• This has juice, power, and psychedelic, shimmering expansiveness. You feel like you're right in front of the stage, in the middle of the audience.
• Even nasty impulses and fractious sibilants sound clean as a whistle from the speakers.
• The X8 is a player from the top of the extensive Pro-Ject range. Arm, drive, and motor come, with small simplifications here and there, from the top models.
Review
Bernhard Rietschel
---
---