Speaker Box 15 DS2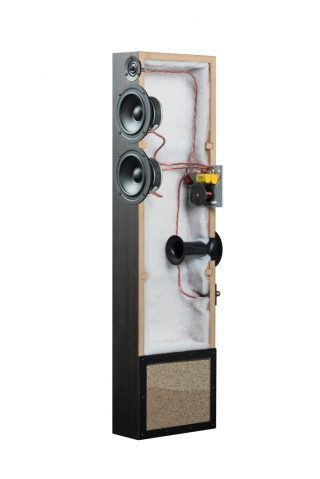 Flagship floorstanding speaker
Speaker Box 15 DS2 – rediscover your favourite music with our passion for sound!
Speaker Box 15 DS2 represents our flagship loudspeaker and pinnacle in design. With its heavy weight it will stand strong and stable while making sure that unwanted vibrations will not be transmitted. A special separate cabinet, filled with sand, is used to create a gravity masspoint for best vibration absorbtion and optimum stability. Speaker Box 15 DS2 features our summit of sound, shockingly engaging and detailed with a sound stage that is so realistic you will think you are at a live venue! Lifelike mids to breath emotion into any instrument, powerful and strong bass to get your feet moving, all coupled with airy and well pronounced treble for superior micro-details are the key characteristics of this revolution in loudspeaker design! Speaker Box 15 DS2 is available in three noble wooden finishes, walnut, eucalyptus and rosewood. They perfectly match our EISA award winning The Classic turntable, our elegant DS2 line and will fit in any room with their luxurious aesthetics! Speaker Box 15 DS2 comes with high quality spikes to perfectly ensure that unwanted vibration will be transmitted to any stable surface. All our speakers have to withstand extreme condition tests to make sure that they fit our highest standards. Speaker Box 15 DS2 outranks many more expensive loudspeakers with its superior soundquality and intelligent, no-nonesense craftsmanship.
The 150 Millimetre fiberglass-cone mid/bass drivers are responsible for a balanced and homogenous sound. Organic and wide they will transform your listening  experience into something very unique. The special form behind the cones protects the driver from any reflecting waves. Warm and clear mids with natural body paired with solid and punchy bass will convince every listener!
The 25 Millimetre silk ring tweeter offers an immensely detailed and airy sound with clear highs, which are tuned bright but also deliver a good portion of warmth.
The 19 mm thick cabinet is perfectly made to block any sound leakage. The interior of the loudspeakers is kept to be as simple as possible. The PCB-less design guarantees an undisturbed signal path to the drivers. The lowest fifth of the speakers is filled with sand, which adds valuable weight to ensure flawless decoupling. We used our audiophile best buy cable, Connect it LS, for internal wiring. It offers oustanding fidelity and transparence, which makes our loudspeakers deliver their unique sound!
Pro-Ject speakers – high quality and timeless
A lot of speaker manufacturers have lost the real tradition of european craftsmanship in the past decades. Before the millenium almost 90 percent of all loudspeakers, in any price range, have been made in either Europe or the USA. Today nearly 99 percent of speakers up to 4000€ are made in Far East. The trend also went into a direction where speakers have been overdesigned with extravagant looks and low-quality materials. Unfortunately a majority today is made of resonant particleboard, is covered with strange lacquers or even plastic! Even though these materials are very cheap the prices for the speakers go stadily up. In tradition of the Pro-Ject philosophy we have kept our S2 and DS2 speakers as simple and elegant as possible, with beautiful real wood veneer, top notch components and best build quality! Take as an example our extreme precisely made corners. All in favour of the sound and a timless design!
Available in:

Features
Audiophile 2.5-way design
Rear port bass reflex cabinet
Sophisticated internal bracing
Ultra stiff non resonating MDF cabinet
Gravity mass-point by sand filled cabinet
Audiophile direct-wired crossover - no PCB!
Lead free solder
Ecofriendly glue from Kleiberit
Real wood finishes in 3 options
Acoustically transparent front cover with magnetic attachment (front and back)
Gold-plated speaker terminal (single-wired)
Height-adjustible spike feet with supports
Handmade in Europe
Technical Specifications
| | |
| --- | --- |
| Sensitivity (1W/1m) | 90 dB |
| Recommended amplifier power | 20 bis 250 Watt |
| Tweeter | 25 mm Ø Silk-ring |
| | Neodynium magnet |
| Woofer | 2 x 150 mm Ø fiberglass cone |
| Cabinet material | MDF (Ø 19 mm per side) |
| Frequency response | 35 Hz - 22 kHz |
| Impedance | 4 Ohms |
| Dimensions W x H x D | 160 x 978 x 260 mm |
| Weight | 20.6 kg, per piece |
| Wooden finishes | Walnut |
| | Eucalyptus |
| | Rosewood |
---
---
FAQs
Yes, we recommend to operate them without covers, as the delicate treble can spread absolutely freely. Our almost acoustically transparent speaker grilles only serve as protection against outer influences (e.g. pets).