Xtension 9 Evolution
High-end turntable with 9" evo tonearm
Superlative vinyl performance from a compact luxurious turntable/arm configuration!
Xtension 9 Evolution incorporates all our turntable design experience from more than 20 years in a slim-line size to fit standard audio racks. Xtension 9 chassis is made from MDF filled with metal granulate, that gives high mass and is non-resonant. Magnetic feet, which decouple the main plinth from its base, are combined with a weighty 16 kg total turntable mass. With these two magnets located in the feet, the turntable is practically floating. The result is a unique combination of 'mass loaded' and 'floating turntable' design principles. Instead of pure metal for the main platter, we've found a perfect alloy which we damped on with thermo plastic elastomers (TPE). Additionally we've placed recycled Vinyl records on top (which act as a perfect mat) and bake this 'sandwich' before precision balancing it. The final product subsequently benefits from a wonderfully resonance-free, heavy platter, that runs ultra-silently on an inverted ceramic ball bearing with magnetic suspension. The Xtension 9 Evolution includes a top-class high-end tonearm 9" Evolution.
The turntable comes either with or without a pre-adjusted cartridge in the Xtension 9 Evolution SuperPack. It comes standard with the premium tonearm cable 5pin > RCA cable. For an optimal connection to the Phono Box RS or RS2, the symmetrical premium tonearm cable 5pin > XLR is available separately. Phono Box RS and RS2 offer balanced phono inputs, what guarantees superior results in high-end vinyl reproduction with a balanced signal source.
NOTE: The signal source and the receiving device have to be equipped with balanced connections. Transmission of audio signals in a balanced mode reduce the influence of interference due to external stray electric fields significantly.
In the box:
Xtension 9 Evolution optionally as SuperPack with pre-adjusted Pick it DS2 MC cartridge (*cartridge in SuperPack can vary)
Connect it 5P-E RCA Cable (Upgrade option: 5P-XLR)
Dust cover
Adapter for 7" singles
Record puck
Counterweights for 5-14g cartridges
Power supply, allen key, spirit level, gloves
Features
Heavy 16 kg belt drive turntable
Mass loaded magnetic floating subchassis
Precision balanced sandwich-platter
Inverted ceramic ball bearing with magnetic support
Heavy weight record puck included
MDF chassis filled with metal granulate with low levels of resonance and high mass
Electronic speed control 33/45 rpm
Tonearm 9cc Evolution made from carbon fibre
Inverted tonearm bearings (ABEC 7 quality)
Dust cover included
Technical Specifications
| | |
| --- | --- |
| Speed | 33, 45 (electronic speed change) |
| Principle | Belt drive |
| Platter | 300 mm aluminium (TPE damped) |
| Main bearing | Inverted stainless steel with ceramic ball with antimagnetic support |
| Wow & flutter | ± 0.10% (max) |
| Speed variance | ± 0.09% (max) |
| Signal to Noise | 73 dB |
| Tonearm | 9" cc EVO, Carbon |
| Effective arm length | 230 mm |
| Effective tonearmmass | 8.5 g |
| Overhang | 18.0 mm |
| Tracking force range | 0 - 25 mN |
| Included accessory | Power supply, dust cover |
| Power consumption | 4 Watts max / < 1 Watt standby |
| Dimensions | 465 x 185 x 350 mm (WxHxD) |
| Weight | 16.0 kg net |
---
---
Reviews
EISA Best Product 2014 – 2015
 Pro‐ject kicked off its Xtension line‐up back in 2009 with the Xtension 12, a relatively large deck designed to take 12‐inch tonearms. This SuperPack sees the company's more rack‐friendly Xtension 9 Evolution turntable pre‐fitted with the latest version of its one‐piece carbon fibre 9CC Evolution tonearm plus the range‐topping Black moving‐coil cartridge from Ortofon's Quintet series. The result is a turntable that sounds smooth and assured yet is certainly no slouch when it comes to digging deep into the grooves in search of detail. Add clarity, crispness, and a presentation that manages to sound solid yet punchy when the occasion demands, and you have a turntable package that is nothing if not value for money.
---
audiodrom.net reviews the Xtension 9 Evolution Superpack
10. 2015
I hope it is clear by now that I really loved listening to the Pro-Ject's Xtension 9 SP turntable.

Read more at http://www.audiodrom.net/en/analog-sources/detail/34-analog-sources/517-pro-ject-xtension-evolution-9-sp
---
stereoplay reviews the Xtension 9 Evolution Superpack
DE, 08.2018
The squadron named Xtension 9 Evolution SuperPack is a great combo - smart and powerful.
It all starts with the needle: The MC Quintett black is a fantastically sovereign pick-up. Then the fine tonearm made of carbon and the unwavering platter. Sonically we are in the top class. A big recommendation from us.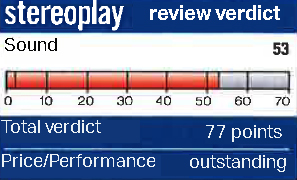 ---
---
Recommended Products