Juke Box E
Audiophile "All-in-one Plug & Play" turntable system
"All-in-one Plug & Play" turntable system with Bluetooth, line input & easiest possible set-up!
Juke Box E is record player, phono stage, Bluetooth receiver, line pre-amplifier and power amplifier in one, requiring only a pair of speakers to make a complete system. If you thought that a starter turntable system is complicated to set up, Juke Box E proves the contrary. This good sounding belt-drive deck offers the fastest possible installation process because it comes pre-adjusted out of the box and offers superb sound quality.
Tracking force and anti-skating of the turntable section are carefully pre-set. An acrylic dust cover is included. The "All-in-one turntable system" is available in high-gloss black, red or white colour.
The Juke Box Highpower Supply is optionally available. It features up to 50% more peak power output, increasing dynamic and bass response. The true ground connection over a 3 pin power plug can dramatically reduce hum and noise under critical power conditions.
Available in:

Features
Instant playback with super-easy setup
High contrast display on top
Bluetooth and 1 line input
Line record output
Gold plated sockets
Pre-adjusted tracking force & anti-skating force
Ortofon OM5e cartridge, pre-mounted
8.6" aluminium tonearm with sapphire bearings
Belt drive with silicone belt
Low vibration synchronous motor & DC power supply
Special feet for effective decoupling
IR remote control included
Colour options: HG Black, HG White, HG Red
Technical Specifications
| | |
| --- | --- |
| Power output | 2 x 50 Wats (4 Ohm) |
| Outputs | Speakers, Line out (fixed), Phono out |
| Inputs | Bluetooth, 1x Line (analogue) |
| Speed | 33, 45 (manual speed change) |
| Principle | Belt drive |
| Speed variance | 33: 0.8% 45: 0.7% |
| Wow & flutter | 33: 0.29% 45: 0.27% |
| Platter | 300 mm plywood with felt mat |
| Main bearing | Stainless steel in bronze bushing |
| Tonearm | 8.6" aluminium |
| Effective arm length | 218.5 mm |
| Overhang | 22.0 mm |
| Effective tonearm mass | 8.0 g |
| Counterweight for mass | 3 - 5.5g (pre-mounted) |
| Tracking force range | 0 - 25mN (OM5e 18mN pre-adjusted) |
| Included accessory | Power supply, dust cover, remote control |
| Power consumption | 110W max |
| Dimensions | 415 x 118 x 334mm (WxHxD) |
| Weight | 5 kg net |
---
---
Reviews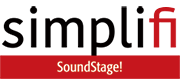 ---

Mint reviews the Juke Box E
DE, 08.2018:
Pro-Ject's all-in-one system Juke Box E amazes with a powerfully intense sound and impeccable finish so that you recommend it to your best friends at any time and you would also like to buy one for yourself - for less than 800 Euros, complete with turntables, amplifiers, speakers and cables, all made in Europe.
Review
Bernhard Rietschel
---

What Hi-Fi reviews the Juke Box E
UK, 04.2018:
Pro-Ject forces a little of the 21st century into a turntable, with winning results. Far less compromised than you might imagine, the Juke Box E makes a genuine case for itself. It's also an all-in-one system that we can't easily argue against in favour of separates. This level of functionality is difficult in the extreme to replicate using individual components at this sort of money.
Original review see: https://www.whathifi.com/pro-ject/juke-box-e/review

---
---
Recommended Products