Juke Box E HiFi Set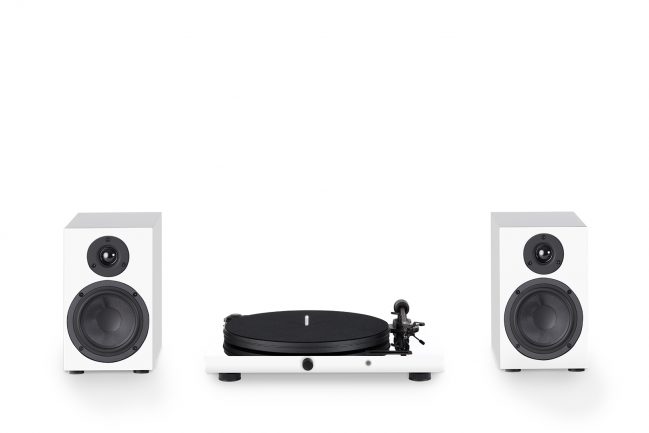 Audiophile "All-in-one Plug & Play" turntable system
All-in-one systems: The problem
There are countless all-in-one systems on the market, partly with built-in speakers. They have proven to be widely popular, though are absolutely not suitable for real HiFi fans. Due to the produced soundwaves the tonearm and cartridge are directly affected by vibrations at the tracking process. This results in disturbed and bad sound. Since the built-in speakers are very close to each other, it is impossible to create a true stereo triangle. Now the customer misses out on a real two-channel experience.
On top these models are often made of bad build-quality and have very light weight housings made of plastic. That should definetly be avoided! For optimum decoupling, a turntable has to be heavy and standing on a solid surface.
Juke Box E HiFi Set: The solution
The solution to this request is our Juke Box E. It offers built-in pre and power-amplifier, which allows you to place the speakers far away from each other to minimize the possibility of acoustic feedback and to create a real analogue stereo experience.
With Juke Box E we want to show all vinyl enthusiasts and growing audiophiles, how easy and great a music experience from a modern record player can be!
Speaker Box 5: Audiophile compact
Speaker Box 5 is an audiophile 2-way monitor speaker using bass reflex system. It is acoustically optimized for clear bass. The bass reflex port is located at the speaker's rear. The rigid housing is available in exclusive high gloss options. The perfect partner for Juke Box E! With its compact dimensions and elegent looks Speaker Box 5 effortlessly fits in every interior.
Juke Box E: One-Box Solution
With its full range of analogue and digital inputs, Juke Box E becomes one of the most versatile offerings on the market. A turntable, a preamplifier, a power amplifier and a Bluetooth receiver as a good looking and audiophile one-box-solution!
The Line output even lets you relay the signal to a further amplifier, such as the Head Box S2, to become an even completer setup. For further convenience an infrared remote control is included!
Features
Instant playback with super-easy setup
High contrast display on top
Bluetooth and 1 line input
Line record output
Gold plated sockets
Pre-adjusted tracking force & anti-skating force
Ortofon OM5e cartridge, pre-mounted
8.6" aluminium tonearm with sapphire bearings
Belt drive with silicone belt
Low vibration synchronous motor & DC power supply
Special feet for effective decoupling
IR remote control included
Colour options: HG Black, HG White, HG Red
Set includes: Juke Box E, Speaker Box 5, Damp it, speaker cables, banana plugs
Technical Specifications
| | |
| --- | --- |
| Power output | 2 x 50 Wats (4 Ohm) |
| Outputs | Speakers, Line out (fixed), Phono out |
| Inputs | Bluetooth, 1x Line (analogue) |
| Speed | 33, 45 (manual speed change) |
| Principle | Belt drive |
| Platter | 300 mm plywood with felt mat |
| Main bearing | Stainless steel in bronze bushing |
| Tonearm | 8.6" aluminium |
| Included accessory | Power supply, dust cover, remote control, speaker cables, Damp it, banana plugs |
| Power consumption | 110W max |
| Dimensions (Juke Box E) | 415 x 118 x 334mm (WxHxD) |
| Weight (Juke Box E) | 5 kg netto |
| Dimensions (Speaker Box 5) | 160 x 255 x 210mm (WxHxD) |
| Weight (Speaker Box 5) | 4.2 kg netto |
---
---
Reviews

Audio Test reviews the Juke Box E Hifi Set
DE, 06.2018:
The Juke Box E combines amplifier and player in a very successful way. While many have already taken this step, the Juke Box E masters this not only elegantly, but also with a high degree of tonal competence. Considering this versatility, it convinces on all levels. Of course, the Juke Box E cannot replace a full-blown power amplifier, but it certainly manages to enhance the image of the all-in-one turntable. The Speaker Box 5 speakers in duet with the turntable Juke Box E are a very convincing addition.
Review
Alex Röser, Stefan Goedecke
---
---
Recommended Products