Debut III S audiophile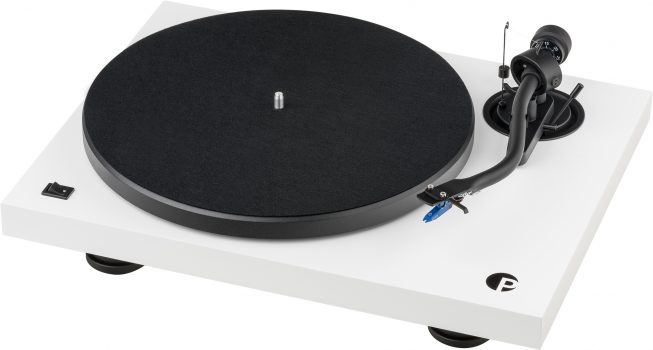 Audiophile turntable with S shape tonearm
The best-buy turntable classic with one piece S shape aluminium tonearm and special cartridge!
This special edition of the Debut III comes with some outstanding features, such as the very special Pick it 25A cartridge, which has been developed with our long time partner Ortofon. It is based on their OM series but uses highly conductive silver spools for a superior sound experience. The one piece S-shape aluminium tonearm offers a very harmonic and warm, audiophile sound. The newly developed aluminium/ TPE feet ensure that the turntable is perfectly decoupled from all unwanted vibrations. Supplied with Debut III S audiophile is our best-buy phono cable Connect it E, which has been voted amongst the best budget phono cables around. Debut III S audiophile will be available in two high gloss options, black or white.
The Debut III S audiophile is the first and only turntable that features our new logo on its base as well as on the supplied acrylic dust cover.
Features
Precision belt drive with synchronous motor
Superlative aluminium/TPE damping feet
8,6'' one piece S shape aluminium tonearm
Steel platter weighing 1,3 kg with a felt mat
Special edition Pick it 25A cartridge
High gloss colour options: black, white
Dustcover included
Technical Specifications
| | |
| --- | --- |
| Speed | 33, 45 (manual speed change) |
| Drive principle | Belt drive |
| Platter | 300 mm steel with a felt mat |
| Speed drift | ±0.8 % |
| Wow & flutter | ±0.12 % |
| Mains bearing | Stainless-steel axle in a brass bearing housing |
| Tonearm | 8.6", aluminium |
| Effective arm length | 218.5 mm |
| Overhang | 18.5 mm |
| Tracking force | 10 - 30 mN |
| Output | RCA (Phono) |
| Included accessories | 15 Volts DC power supply, dust cover |
| Dimensions | 415 x 118 x 320 mm (WxHxD) |
| Weight | 5.5 kg net |
---
---
Reviews

Hi-Fi Choice reviews the Debut III S audiophile
UK, 05.2018:
Conclusion: The Debut III S audiophile is a welcome addition. It takes the best of the existing models and adds a dash of extra sophistication and poise to their performance. The individual changes add up to a convincing package, and it is clear that this is a design that has been properly thought out. The whole is most definitely greater than the sum of the parts, but be sure to budget for a better mat. A highly capable hi-fi turntable package at a great price point .
---

Paul Rigby reviews the Debut III S audiophile
Providing a strong and yet relaxed suite of self-assured bass frequencies combined with low noise-induced midrange detail that enhances clarity and the intelligibility of even complex arrangements, the Pro-Ject Debut III S audiophile is an accomplished analogue performer capable of providing impressive and even startling performances.
GOOD: low noise, confident soundstage, mature bass, midrange clarity, design
BAD: nothing
RATING: 8
Original review see: https://theaudiophileman.com/pro-ject-debut-iii-s-audiophile-review/
---
---
Recommended Products